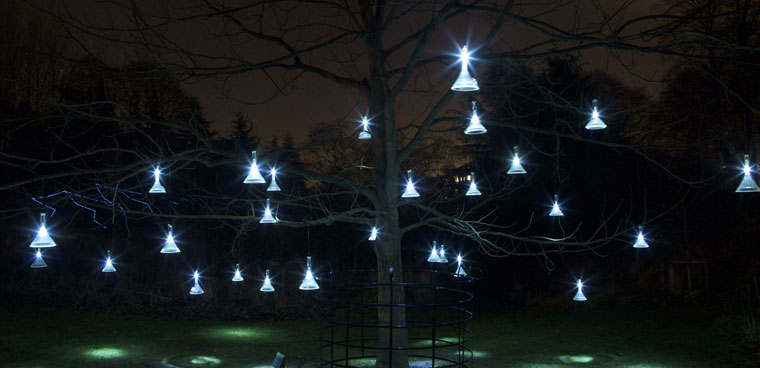 Anne Bean, Bell Tree, Lumiere Durham 2009, Durham Botanical Gardens • Photo Matthew Andrews
Power Plant is a sound and light art experience which has won critical acclaim in major festivals around the world. Five international artists; Mark Anderson, Anne Bean, Jony Easterby, Ulf Pedersen and Kirsten Reynolds create over thirty remarkable site-specific installations which transform public parks and botanical gardens into magical nocturnal environments.
Power Plant presents a rare opportunity for large audiences to experience a fascinating world where art and nature are intriguingly integrated. Walking at their own pace, each visitor, moves along a route through the night-time garden experiencing a series of sometimes intimate and sometimes vast art works that emerge from the natural surroundings creating strange, thoughtful, intoxicating atmospheres in sound and light. Glances into the distance offer alluring vistas where tantalizing glimpses of flashing and flickering colour appear from the verdant surroundings accompanied by enthralling traces of otherworldly sounds.
Wherever Power Plant takes place it attracts huge audiences from a broad and culturally diverse cross section of the public, it appeals to young and old alike tapping into peoples primitive/natural sense of wonder and curiosity at the visual and sonic world around them. Power Plant is carefully orchestrated to achieve maximum effect from the least amount of intervention. As one younger member of the public put it, "Power Plant is a banging show, except that it bangs in your mind and not in the show".
Power Plant was a key sell-out event at the Sydney Festival, Australia in January 2011 attracting almost 20,000 people over ten days. The stunning, yet thoughtful, interventions within the historic Kunming Walled City Garden made Power Plant one of the most striking and important events during the Hong Kong Arts Festival in February 2011 selling out its 20,000 audience capacity in advance of the show opening. Power Plant was also one of the most spectacular and popular successes of Hobart's international Ten Days on the Island Festival In March 2011 when it transformed the beautiful and majestic Royal Tasmanian Botanical Gardens.
These high-profile events follow similar unique, prestigious shows at major cultural festivals in the UK. Power Plant was the hit of the Edinburgh Fringe Festival in 2009 with audiences of 7000 people and full page coverage in national media. In 2008, Power Plant was part of the Liverpool 08 European Capital of Culture, being described by Robert Sandall in the Sunday Times as "A huge success… Power Plant's ingeniously playful array of electronic stunts, kinetic sculptures and musical sound effects sprang a series of delightful surprises."
Background
Power Plant was originally commissioned in 2005 by Oxford Contemporary Music together with the University of Oxford Botanic Garden. It's immediate success led to the Arts Council England's Contemporary Music Network commissioning new works by all five artists for the a second Power Plant in Calderstones Park, Liverpool during the European Capital of Culture programme in 2008.
In 2009 Power Plant was presented as part of the British Council showcase during the Edinburgh Festival where it became a must-see show attracting audiences of over 7500 to the Royal Botanic Garden Edinburgh. Widespread public and critical acclaim followed, leading Artichoke, a company internationally renowned for curating ambitious and extraordinary art events in public spaces, to invite Power Plant to the Durham University Botanic Garden. The site-specific event again adapted to a large and diverse landscape emerging glittering, twinkling, humming and buzzing to become a star attraction of Lumiere; the UK's largest light festival.
In 2011, with the support of the British Council, Power Plant undertook its first major international tour, attracting huge audiences to the Sydney Festival, Hong Kong Arts Festival and Ten Days on the Island, Hobart, Tasmania.
With most events sold-out and total ticket sales to date of over 75,000 Power Plant is a critical and public success, attracting major sponsors as well as international media coverage in the press, radio and TV.
Power Plant events are currently being planned for the USA, Europe and New Zealand. Power Plant is available for major international events and touring.