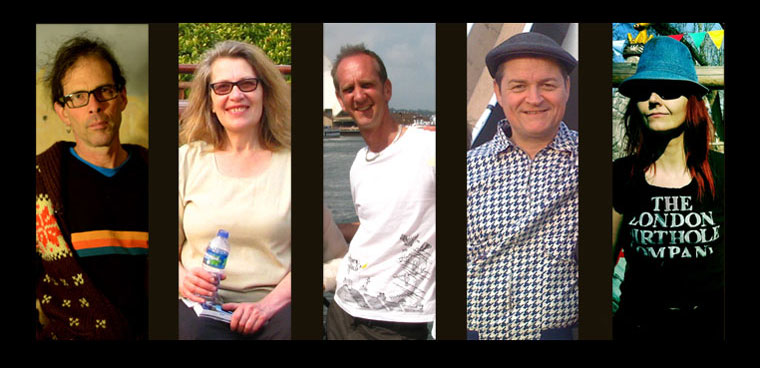 Power Plant artists: Mark Anderson • Anne Bean • Jony Easterby • Ulf Pedersen • Kirsten Reynolds
The five Power Plant artists are a loose collective who have a long history of working together on outdoor site specific works. They first started working together in the mid 90s, coming together to work on projects with the late Paul Burwell, who had worked with Anne Bean and Richard Wilson in 'The Bow Gamalan Ensemble'.
Though each of their work is very different, and driven by different concerns, they all have a passion for working in the outside environment, and the challenges that this involves. They are particularly moved by the way an audience relates to their work in these environments, and by the massive cross section of people from the very young to the very old who make up audiences where ever Power Plant goes.
Power Plant is conceived by the artists in some ways as a single work, this is particularly the case with regard to the sound element, and when they are all together on site, sometimes up to a year before a show one of the priorities is to pay careful attention to the sound balance between installations, and across the whole site. On another level they think of themselves as gardeners of the imagination, planting and nuturing works that like the botanical specimens that are often growing alongside the work, need care and attention for them to blossom.
What unites this group of artists is an idiosyncratic approach to their art, it often comprises of old and new technologies bolted together, in a rather ad hoc manner, their creations are often delicate and in need constant attention to keep them working in what can sometimes be quite hostile environments.