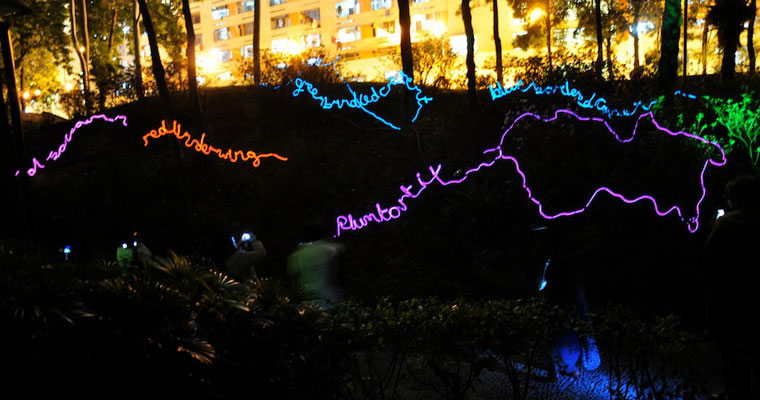 Night Flying Moths, Kowloon Walled City Park, Hong Kong Festival 2011, photo Jason Ryall
Anne Bean has been working as an installation and performance artist for over 40 years. Her evocative work encompasses a range of media including light, drawing, photography, video and sound, using a wide range of materials from fire, pyrotechnics and weather balloons to wind, steam and honey.
Since 1970, around the world , Anne has presented solo and collaborative projects incorporating both static and time-based visual art, on both intimate and massive scales. In 2009, she received a British Council Creative Collaborations and Visiting Arts award to bring together and create work with women from Iraq, Croatia, Israel and N. Ireland, resulting in an ongoing project.
In 2010 The Tate Gallery Research department and Live Art Development Agency granted her a Legacy: Thinker in Residence Award, which resulted in a major work, TAPS, in which Anne invited over 80 sound and visual artists, all of whom have been engaged in improvisatory experimental practice, to contribute to a collaborative piece. She is a founder member of the legendary Bow Gamelan Ensemble and has twice received the Time Out Award for performance art.
More info at http://www.annebean.net/
Power Plant on website:
http://www.annebean.net/past-projects/2011/175
http://www.annebean.net/past-projects/2001-2010/48
http://www.annebean.net/past-projects/2001-2010/141